Punta Mita: Deep Relaxation That's Like No Other Place
PUNTA MITA MY DREAM VACATION
Peace permeates this resort at a level that is unmatched by others.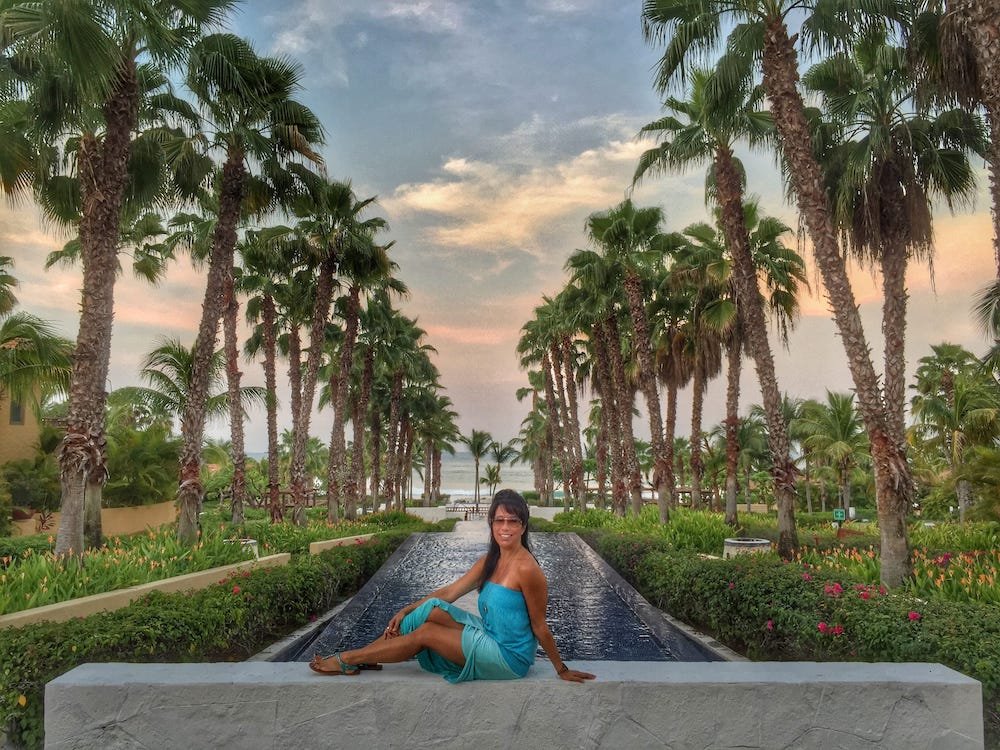 "Unbelievable!" was all I could say. The house was a mess from a recent flood and my business was consuming my life but, somehow, now seemed a good time to jet off to Punta Mita, Mexico for an extended weekend stay at the St. Regis. An amazing package deal enticed us but we seemed to have neglected to check the weather–it could be raining and very humid! The wettest month there, however, is September so we're barely escaping the chance of the heaviest rainfall by going in early October. We visited in October 2019 and were blessed with good weather.
A four am wake-up call left us too groggy to care if it was raining in Mexico. At least, we won't be rushed to get to the airport. I hate rushing!
"Your passport is where?"
"At the office," his eyes bigger than our dog's water bowl.
"Shit!"
And so the short, supposed-to-be-relaxing journey begins for us. 
Ever had a start to an anticipated blissful weekend like this? 
I'll bet you have—"that's life", you know.
After a high-speed trip to the office and back turns out the passport was at home and then the rush to the airport began.
Settling into a vacation is a nice thought but often a difficult task to realize.
An easy three-hour flight with only one plane transfer makes this much quicker than going to Hawaii for Southern Californians.
The third-world experience begins the minute you enter the airport.
Dozens of cabbies push forward to recruit you to take their cab to your destination. They line the airport and are fairly convincing in claiming that you already have a ride set with them.
A drug-sniffing black lab thought he discovered something in a nearby woman's Louis Vuitton bag. Turns out some leftover sandwich bits remained in her bag. My bag arrives with some sort of gooey coconut-scented lotion on it. Yuck! But it smells good enough to drink!
From Puerto Vallarta's airport, it's just a 45-minute ride to Punta Mita in the state of Nayarit, Mexico. It's not a burden but a joy. It proved to be exactly what I needed.
Glorious ocean views filled the car window frame like a magnificent painting. An exhilarating rush of anticipation flowed through me, awakening those senses that always come to life when travel is on the horizon.
This is Heaven. Clink, clink.
The welcome margaritas are served as soon as we enter the lobby. They go down so smoothly and soon enough I have found my needed peace at the St. Regis.
I come to love breakfast here even though back home I often forget to eat until almost noon.
The breakfast buffet is the way to go and was part of the Travel Zoo package deal we'd found which offered breakfast each day (a value of $85/day) and two cocktail drink coupons a day ($29/day value). (Like in Thailand, wine is a lot more expensive but, trust me, the craft cocktails do just fine.) Our junior suite with ocean view and butler service is a steal at this price. Their customer service is impeccable and they're just a text message away. It all cost about $1,300 for three nights and four days.
Punta Mita travel deals.
The gourmet buffet breakfast serving tables wrap around the dining room, each station beckoning to your taste buds, offering delicious choices from a traditional American or Mexican style breakfast. Omelets made to order, mini tacos prepared on the spot, fresh colorful fruit, coffee from Italy, and the thick local cream–Wow!
But one can only eat and drink and soak up the sun so much, right?
"Don't grab the line or you'll get a Mexican manicure," our friendly, hilarious Zip-line tour guides from Vista Paraiso jokingly caution.
They're a smaller operation but were highly recommended by the St. Regis.
Zip lining is one of the main attractions and this company in Higuera Blanca, was only about 15 minutes from Punta Mita. There are, of course, many activities to choose from including horseback riding, standup paddle boarding, boat excursions, snorkeling, yoga, and beachside lounging.
Zip lining costs about $85 per person and takes around two hours of your day. The Canopy Tour takes you on seven zip lines, one lasting nearly a whole minute long.
It's well worth the money for the views alone. We were shuttled up the hillside in a utility truck after being fitted with the safety gear: a harness, carabiners, gloves, and a helmet. But be prepared to do some hiking and, in humid weather, you'll end up pretty sweaty, very fast. It's all good though; the faster you go (at approximately 30 mph) on the zip line, the quicker you'll cool off.
The exquisite beauty of the forest with the Pacific Ocean and the islands of Marías and Marietas off in the distance lure me into a blissful silence–at least until I get on that first zip line. Then it's time to scream about the thrill and the experience of flying high above it all!
It's as though the trees speak to me. I'm at home here, soaring more than 500 feet above the valley floor.
In this open space, my mind does great things. My inner voice calls out, "Follow your dreams; leave your legacy".
Great ideas seem to meet me when I have no place to jot them down. I'm holding on to the carabiner, careful not to grab the metal zip line–I already had a manicure, thank you very much–and I'm shooting video with my iPhone in my other hand.
Stay with me for the journey, Muse of Great Ideas, please stay with me until I can write you down.
Safety wasn't on my mind when I was zip lining and it's not been on my mind since I landed in Mexico, which kind of surprised me.
Being a native San Diegan, as a high school student, Tijuana, Mexico was a short escape that promised a fun party night.
But as an adult, I've rarely been back and often wondered if Mexico is really safe after hearing of much alarming drug-cartel violence there.
The disappearance of 43 college students from a teacher retreat in the small city of Iguala, 120 miles south of Mexico City, alarmed the world.
Despite that, Punta Mita in the state of Nayarit feels safe because of the luxury influence in this area.
Punta Mita is a 1,500 stretch of beachfront property. The two high-end resorts, St. Regis and the Four Seasons, make you feel secure and right at home.
A busy, courteous, and attentive staff at the St. Regis makes sure your every need is met. There are so many staff members that, even in the off-season, a resort team member is always nearby even if you don't ever see another guest (which we rarely did). The butler service will even go to your room and bring your book down to the pool or beach. They'll wipe the humidity from your sunglasses. Every hour, the staff will bring a different amenity to you as you lounge poolside or at the beach. It may be a tasty popsicle, then a refreshingly cool, lavender-scented towel.
About a 20-minute car ride away is Sayulita. This was once an off-the-beaten-path town and, for the most part, it seems it is still relatively unknown.
Its surf-bohemian-artsy-Jimmy-Buffet-kind-of-culture will make you mellow, relaxed, and curious all at once. I meander the cobblestone streets walking beneath the bright, colorful Mexican flags made from paper gently waving in the wind. I find the cheerful colors surrounding me mesmerizing the way a hummingbird is enchanted with a red bird feeder.
I think about the crime only when I see the armed police officers standing out in front of an ATM, fiercely holding rifles. But that fleeting moment, as the money is collected from the machine, fades quickly and I round the corner to see the traditional Mexican art known as Huichol (beadwork.)
It's made from brilliant colored glass, plastic, and metal beads. No patterns are followed and therefore no two designs are alike. The artists, the Huichol or Wixáritari, are an indigenous ethnic group of western central Mexico. They live in the Sierra Madre Occidental range in the Mexican states of Nayarit, Jalisco, Zacatecas, and Durango and create art as it inspires them. Using symbols like the sun, which signifies light and illumination in the world, they create meaningful art that is intended to impart its goodness on the receiver of the art.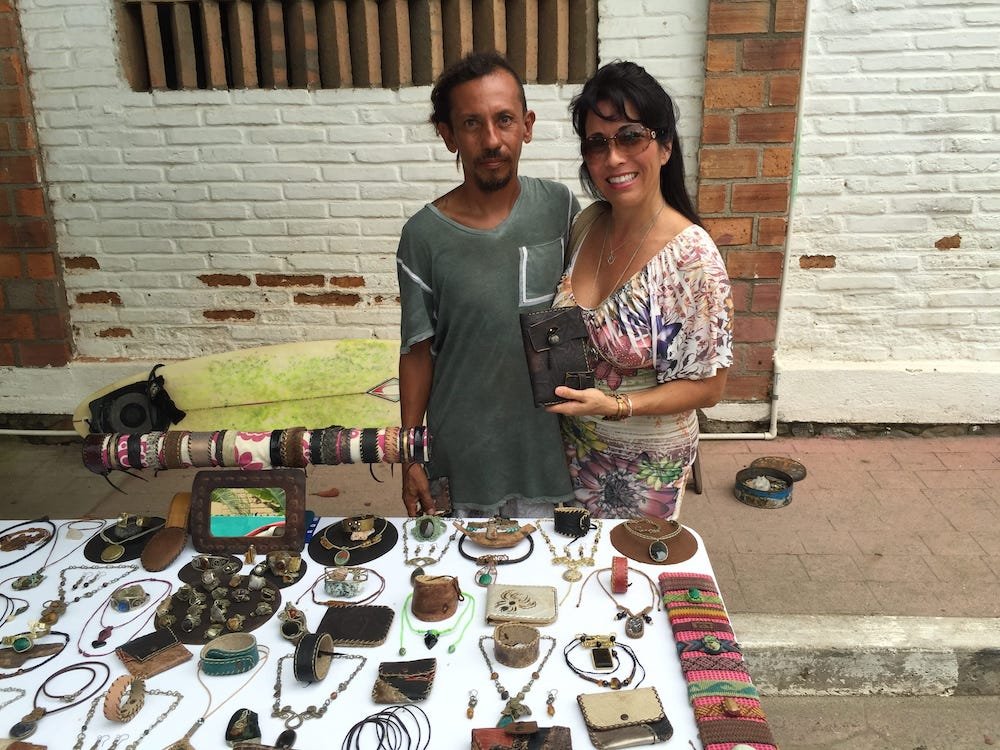 My greatest find, though, is Pablo.
He sits quietly in an alleyway with a small table filled with leather goods and jewelry he has handcrafted, his surfboard at his side.
I spot one leather-bound journal on his table. The notepad inside looks as though it has made several trips with Pablo to this alleyway, but the finely crafted journal is meticulously hand-sewn and thoughtfully outfitted with a convenient zippered pocket inside and a special place to store a pen and business cards. The only thing that doesn't suit me is the cowhide securing the journal's clasp.
Pablo, in broken English, explains there are no more and that he could fix it but not until "mañana". Tomorrow just won't work for me. I didn't plan to return to Sayulita on this trip; the time was too short.
He must have known how much I wanted that journal. Pablo digs through his belongings and finds a shiny stone. Holding it up, he asks, "better?"
"Si, mucho mejor," I smile. I don't know much Spanish but I must've gotten that right because Pablo begins to affix the stone to the journal, securing a new clasp that gives it a rustic look.
Such is the culture here. They all seem to aim to please.
At home, I practice yoga regularly and try to live a minimalist lifestyle. My biggest meal is often lunch but routinely I eat mostly plant-based foods and not a lot at one sitting.
The food choices here are abundant and so delicious. I feel like it's a sin not to finish everything on my plate. So, I respectfully indulge. Anyway, is it really possible to eat too much lobster, whole beans, and tortillas? And, that extra margarita, it can't be that bad, right?
When I travel, I often don't use the gyms but I always check them out. My rationale is that I love getting exercise outdoors because there is always something new to see. I feel like I'm missing something when I'm inside the resort's gym or spa.
However, I love seeing the amenities that five-star resorts offer. It's just that I find myself restless if I sit too long, even in the most luxurious and pampering spa, like that of the St. Regis. Those who aren't afflicted with the "I-gotta-see-everything mentality" will love the spa.
A deep soak in the evening in the stand-alone bathtub in my suite suits me just fine.
As my trip nears the end, I feel a sadness, the same melancholy feeling I get every time I have to leave a place that I swear I could call home. Funny thing is, the more places I go, the more "at home" I feel all around the world. Not sure what that means other than the world is my home and traveling defines my existence.