Eleven Madison Park: Three Star Michelin Plant-Based Cuisine
I had to digest this for a minute when I first read it in a newspaper. A New York City restaurant, Eleven Madison Park, that had earned three stars from Michelin, turned plant-based.
What? 
John and I had to experience this. While we are not vegans, I keep our plates mostly plant-based, especially when cooking at home, and I blog about the benefits of the plant-based diet. 
But this was a huge surprise. Lucky for us, we were heading to NYC in just a few months, so I put Eleven Madison Park on our target list.
Dining at Eleven Madison Park
It was an exquisite experience. The food topped our expectations, and the service was unparalleled. We visited in July 2022, barely a year after the restaurant took meat off its menu. Employees were still masking, but COVID was gradually playing less of a role; the hospitality industry, like many industries, was still recovering.
However, at Eleven Madison Park, you would never know that the restaurant hadn't been plant-based for many years. Everything was perfect.
Eleven Madison Park overlooks Madison Square Park and is located at the base of a historic Art Deco building on the corner of East 24th Street and Madison Avenue.
Eleven Madison Park Tasting Menu: All Plant-Based
The tasting menu at Eleven Madison Park combined plant-based ingredients that Chef Daniel Humm turned into delicious dishes beautifully plated.
The restaurant has maintained its three-star Michelin status even after Humm made its menu 100 percent plant-based.
I'm not at all surprised. The food was that good. I never ate there before it went plant-based.
The blending of ingredients and spices makes you concentrate on flavors and not the lack of meat. You will leave more than satisfied and definitely full but not bloated like you might feel after a heavy meat-and-cream-filled meal.
Eleven Madison Park creatively uses plant-based ingredients like tonburi. It's borrowed from the Japanese culture and mimics caviar. It was placed on top of a radish tostada with a swipe of pumpkin seed butter. Are you kidding me? This is phenomenal!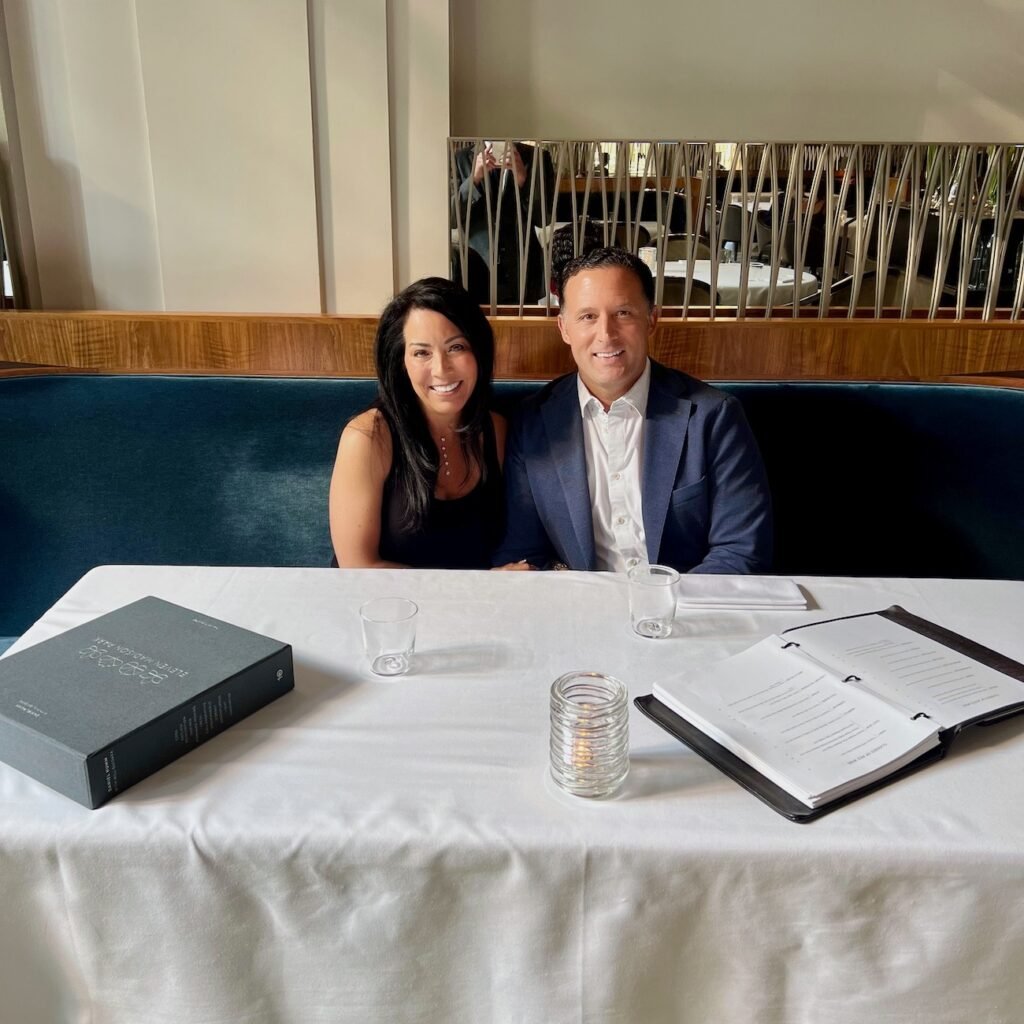 Humm writes on his Instagram, "In Japan, tonburi is an essential ingredient of the Akita Buddhist vegetarian Shojin-ryori cuisine. We're honoring this ingredient on our current menu with gratitude for our friends in Japan who we have collaborated with over the past year."
Tonburi is an edible seed also known as "land caviar" because it has similar characteristics to its ocean counterpart, caviar. The dried seed comes from the summer cypress, Kochia Scoparia, and is a specialty of Akita prefecture in Japan.
Grilled White Asparagus Presented in its own Clay Oven
The asparagus is from Provence and is a delightful presentation. This course arrives inside a clay box designed by artist Rashid Johnson. The box filled with hot rocks and woodchips is rolled to our table by one of many servers we see during our three-hour meal. He explains what we'll eat: grilled asparagus, potato, pickled green almonds with a sprinkling of ginger powder. The asparagus has been charred, grilled, and smoked inside the clay box. The dish is served with a white asparagus crema. The final touch, alyssum blooms–delicate edible flowers are added.
While serving us, he also shares that Johnson created the artwork in the bar—an excellent way to tie together the meal with the beautiful surroundings of Eleven Madison Park.
Serving Meals at Eleven Madison Park is like Watching a Choreographed Dance
The wait staff delivers meals to your table following a choreographed flow that no one ever deviates from. You won't find a single server walking against traffic. It's entertaining to watch.
Does Eleven Madison Park Serve Meat?
I've read online that Eleven Madison Park does serve meat in its private dining area. When this news broke on the internet, some critics wrote about it like it was the restaurant's dirty little secret. That article was written before the restaurant had fully transitioned to plant-based. 
Humm has said in articles since that Eleven Madison Park will never serve meat again: "Not here." He told Bloomberg.
Why Plant-Based at Eleven Madison Park?
The move to plant-based cooking by Humm was, in part, about sustainability. He was eager to help people learn more about whole produce plant-based eating for the benefit to humans and the impact on the world.
Change is never easy. It takes courage for a Michelin restaurateur to make a bold change to his menu in favor and in hopes of convincing others to eat more plant-based. For this, I applaud Humm and Eleven Madison Park. And by creating a fine-dining plant-based cuisine experience, more people can see that plant-based eating doesn't have to be boring.
Wine at Eleven Madison Park
We enjoyed several wines, including the 2019 Chateau Clarke Le Merle Blanc. This was a lovely, full-bodied Bordeaux Blanc white wine with rich flavors—pale yellow with hints of white flowers and toasted oak. This wine is comprised of 70% Sauvignon Blanc, 10% Sauvignon Gris, 10% Muscadelle, 10% Sémillion.
The 2000 Fontodi Flaccianello della Pieve is drinking well with integrated tannins and secondary Sangiovese notes, which include tobacco, dried violets, leather, and even licorice. Medium-bodied with plenty of red fruit still on display. This wine is 100% Sangiovese.
A Keepsake from Eleven Madison Park
After a full belly and a fun night, we ended our dining experience at Eleven Madison Park with a kitchen tour and a keepsake to take home–a lovely hard-cover book with recipes and the restaurant's history. We also received a jar of their granola and some plant-based recipes. Eleven Madison Park now offers an "Eat More Plants. A Chef's Journal." It's all about Chef Humm's decisions and the risks he weighed to turn his restaurant plant-based.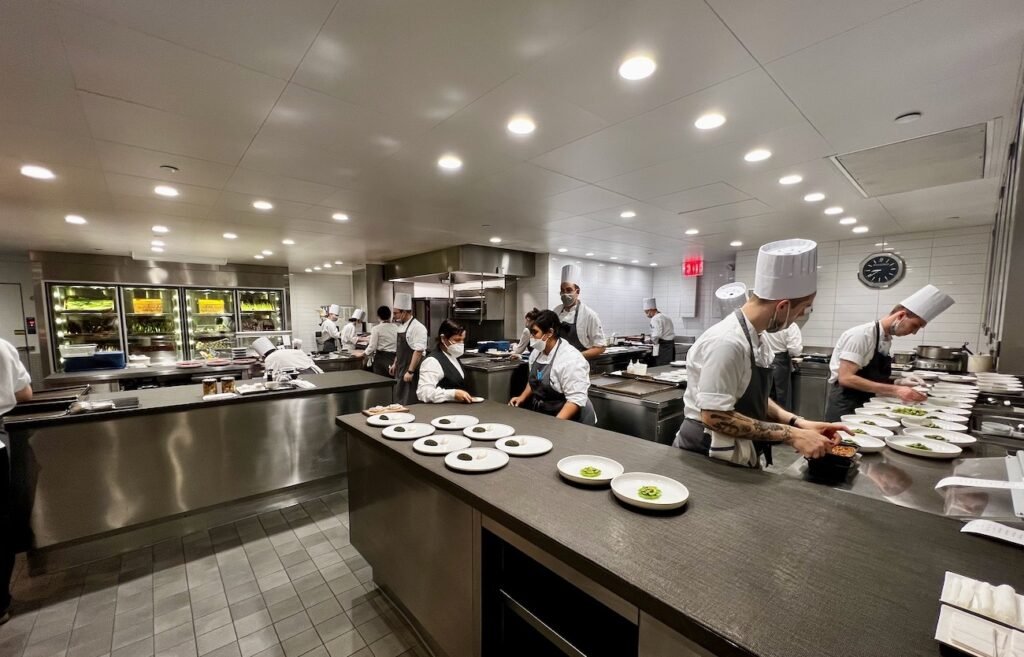 Kitchen Tour of Eleven Madison Park
Part of our dining experience included a private kitchen tour and a peek at the wine cellar at Eleven Madison Park. We were impressed with how organized the large kitchen was. The restaurant employs 200 people, and many of them work here in the kitchen. Once in the kitchen, our guide led us to a bar that looked out toward the staff and prepared us a special cocktail.
ASPARAGUS IN VARIATIONS
Poached, Fried and Steamed
TONBURI
With Baby Lettuce, Horseradish, and Radish Tostadas
BLISTERED FAVA BEANS
With Green Chickpea and Sorrel
PEAS
Glazed with Brown Rice, Coconut, and Nepitella
FRESH TOFU
With Artichokes, Arugula, and Green Garlic
MORELS
With Braised Seitan, Spinach, and Spring Onion
GRILLED WHITE ASPARAGUS
With Potato, Green Almond, and Ginger
CHAMOMILE ICE CREAM
With Fennel Pollen
STRAWBERRY
With Cherry Blossom and Rose