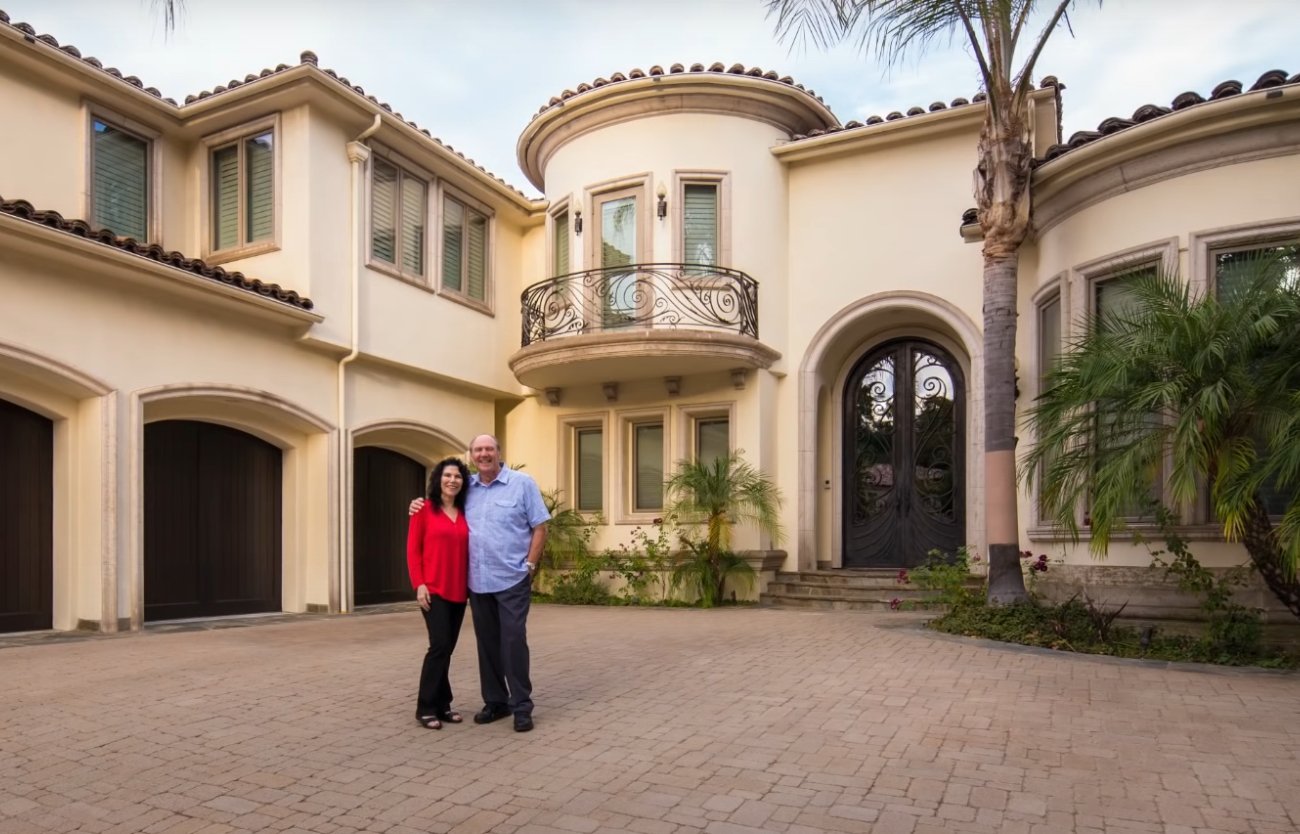 Bill Handel: Why his home is called the Persian Palace
Bill Handel, a legendary radio personality, is at the showroom of System Pavers. He shares his background as a lawyer specializing in surrogate parenting law and how he transitioned into a full-time radio career. He discusses his upcoming meet and greet event, where he answers personal questions from the audience. Handel also talks about his home, nicknamed the "Persian Palace," built by his wife and serves as a business investment. He emphasizes the benefits of investing in property, such as adding pavers to the swimming pool area to save on water bills. Handel describes his home as a comfortable resort-like space that they rarely leave. He praises the quality and beauty of the work done by System Pavers.
KFI Radio's Bill Handel is a lawyer turned legal advisor and host of one of the top-rated morning talk shows in Southern California. Bill did a Meet and greet at the System Pavers Design Center in Santa Ana. I talked with Bill about his talk radio show and how he and his wife Marjorie turned their home into their very own "Persian Palace." Get inside information from Bill on which outdoor elements helped bring his home to life and why investing in your home is beneficial in today's housing market.
Note: the transcript was completed with computer voice recognition software; please excuse the minor errors in punctuation and grammar. 
Video Transcript
Phoebe Chongchua:
We are in the showroom at System Pavers and what a showroom it is. It's just absolutely amazing. And I'm here with Bill Handel. And Bill, you are legendary in radio.
Bill Handel:
Thank you for that.
Phoebe Chongchua:
Tell us a little bit about your background.
Bill Handel:
Lawyer by trade had a very unusual law practice, a third-party reproductive law, surrogate parenting actually, which I still do. And out of that, there were so many interviews that I had done in radio that a program director simply said, how would you like to try doing legal advice? And from there it became a full-time radio career.
Phoebe Chongchua:
Today they're expecting hundreds of people here it is a meet and greet, and so you're going to be answering questions. Give us a little taste of what you'll be talking about. I know it'll be generated from the audience. Well,
Bill Handel:
A lot of people ask personal questions. They ask about my daughters, they ask about my wife Marjorie. They ask about our lifestyle because I'm on the radio 20 hours a week, just Monday through Friday, another five hours on Saturday, Sunday. So people get very involved and I talk about my life. And so when we built our house, the Persian palace, which by the way, the only reason we call the Persian palace is to make fun of our Persian friends. Well, you see the driveway, that's theirs. A lot of the lighting is theirs. Also, you'll see our front yard, our front lawn area, which is their turf, and we're just about to have our backyard, the turf redone because they didn't do that. And we had gone to someone else like idiots, and now they're redoing the whole thing. So it's going to match the quality of the front of our house.
Phoebe Chongchua:
More homeowners are staying put, the inventory is low and the prices are high to move. So they're wanting to stay put and turn it into a Persian palace.
Bill Handel:
We love our home. My wife built every inch of that home. She was the general contractor. for us. It was also a business decision. I've been a small businessman for 30 years and it just made sense.
Phoebe Chongchua:
Tell us a little bit more about investing in your property and how you saw that as a small business decision.
Bill Handel:
Well, I've been buying houses. I bought my first house when I was, I think 27. And then obviously buying houses and flipping them. Not as a living, but just when we moved up. And it just makes sense. It just makes sense. For example, we have a nice swimming pool that you don't get your money back, you just have to put in a swimming pool because it's Southern California and you have no choice. So that one is a, ah, I've got to put it in pavers. Make all the sense in the world that's a payback turf, no water. I mean, my water bill was ridiculous. Now it's almost ridiculous because the amount of money that we save on not having to water the yard
Phoebe Chongchua:
Has your home The Persian Palace become the resort of choice?
Bill Handel:
We don't go out very much anymore. And one of the reasons we don't go out is because number one, the home is that comfortable. So we're using our home more and more and more, and our backyard, which does look like a resort is a place where you just want to hang in
Phoebe Chongchua:
One word. How would you describe the work that you've received from System Pavers?
Bill Handel:
Well, actually there's several words. Quality is the big one. Certainly, the beauty. All you have to do is see it. That's all you have to do, and you'll know what I'm talking about.