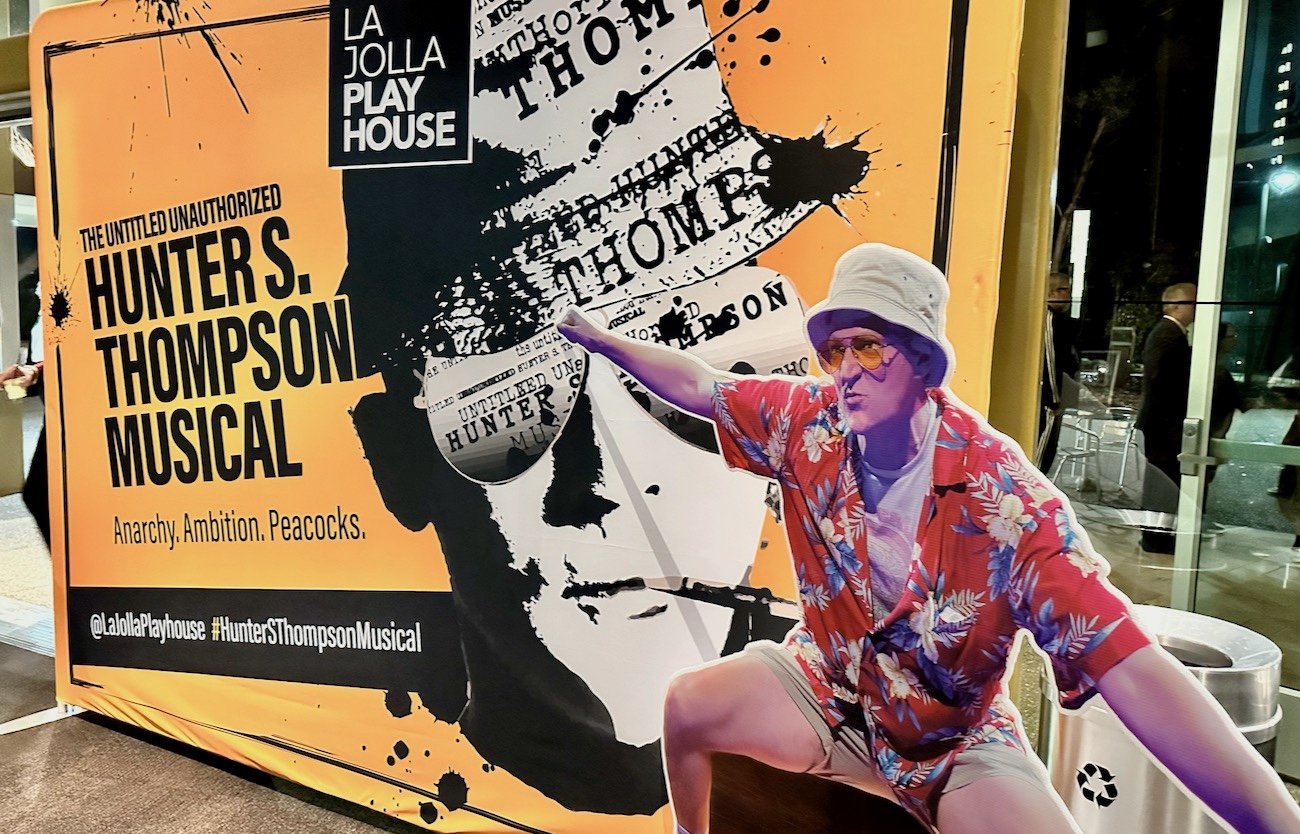 "The Untitled Unauthorized Hunter S. Thompson Musical," I didn't Want it to End
I didn't know what to expect from a musical whose lead is the flamboyant, drug-induced character Hunter S. Thompson, but from the moment the production began, I didn't want it to end. It's a thrilling ride about the eccentric godfather of gonzo journalism — a style of writing that relies on the reporter's involvement and reporting of personal experiences with no claims of objectivity.
In this era of fake news, hatred, polarization, and propaganda, the musical helps us "explore how we got here and how we keep fighting," writes the La Jolla Playhouse on its website.
Big Issues Explored in Lively Musical
Thanks to an energetic rock 'n' roll score by Joe Iconis, the musical sends vibrations through your veins, making you want to move your feet to the beat. But it's so much more than a story about sex, drugs, rock 'n' roll, and his unique style of journalism.
Hunter's character is, in an odd way, charming and vulgar, quirky, fun, and funny. But a scene with his son, Juan, makes you see Thompson deeply hurt those he loved the most.
"The Untitled Unauthorized Hunter S. Thompson Musical," Guns and Suicide
Tony-winning actor Gabriel Ebert plays Hunter in the world premiere production, perfectly bringing the complex, controversial character to life.
Hunter isn't exactly the most loveable character. He's frequently intoxicated and irreverent, and in a world where so much pain comes from gun violence, this character is a drug and gun enthusiast who ultimately takes his own life with a Smith and Wesson Model 645 while he is at his typewriter.
And that's how "The Untilted, Unauthorized Hunter S. Thompson Musical" begins and ends. The La Jolla Playhouse stage production is essentially a countdown to his suicide in 2005, with the story of his life, accomplishments, and controversies told.
Hunter S. Thompson: Advocate for liberals, outsiders, "freaks"
Throughout the musical, you see Hunter as an advocate for counterculture and the hero he was for liberals, outsiders, and "freaks" (his term, of course, not mine). Thompson ran for Sheriff in Aspen, Colorado, based on the "Freak Power" movement.
The music and dance are alive, and, while well choreographed, they have a more spontaneous, free-style feel — like you're just watching people break out into song and dance. It doesn't feel staged; it's downright refreshing.
Archenemy: President Nixon
Hunter's archenemy, President Nixon, played by George Abud, is compelling. The constant bickering on stage gives you a glimpse at what the real Hunter S. Thompson might think and say about politicians today.
"The Untitled Unauthorized Hunter S. Thompson Musical" is a lyrical romp in a historical political arena, and what makes it so captivating is that it's happening today but with a different real-life cast of characters.
And you can't help wondering, is Hunter S. Thompson someone we need in today's political society? What can we learn from art?
We love seeing stage productions because they make us think and examine life, society, and much more. I highly encourage you to see The Untitled Unauthorized Hunter S. Thompson Musical when it comes to your area. It's definitely Broadway-bound!
Learn more about Hunter S. Thompson in the documentary, "Freak Power".
"Freak Power: The Ballot or the Bomb" Trailer